Meet Lace & Trimming Co. Creators: Lyn, Todd & Cassie.
25 Mar
Lace & Trimming Co. is a family owned and run business, created by mother Lyn and two children Cassie and Todd, L & T Co. is truly a family affair even father Peter has helped out with packing orders and measuring lace and ribbon. Lyn lives in Grafton and is the main force behind L & T Co. Cassie who lives in the Hunter Valley and Todd who is currently travelling overseas all have input on L & T Co.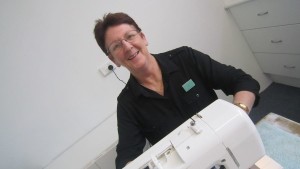 Lyn is wife to Peter, mother to Cassie & Todd and Ninny (grandmother) to Aliyah, Jax and newest addition to the family Tazmyn.
Lyn started sewing at an early age, taught by her Ma and Nanna at just seven years old. She continued learning how to sew throughout school even making her own wedding and bridesmaid dresses.
Lyn is our Lace & Trimming Co. manager and always happy to assist you via our website or shopfront.
In 2012 with the encouragement from Cassie, Lyn started Ninny's xx handmade children's clothing and accessories (which started out as just a hobby). You can find Lyn strapped to the sewing machine before a market sewing as much as possible to sell to the wider community.
When Lyn is not working she likes to relax at home on the farm tending to the cows, sheep, chickens and dog Emma or on the front deck with a glass of SSB.
Before Lace & Trimming Co. her craft supplies expanded over three rooms in the family home (both Cassie & Todd have reclaimed their rooms back now).
Lyn's favourite product is the Lace Edge Bias Binding, but ask her about her Italian hand crafted sewing scissors she picked up at a vintage auction.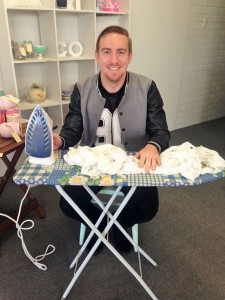 Todd is a professional dancer currently performing on cruise ships around the world (right now he is in the Caribbean, oh the life).
Todd has a strong creative flair and is responsible for creating our website and taking hundreds of photos of all our products, (he is a perfectionist).
He might be a novice on the sewing machine but he can now sew in a straight line under the supervision of mother Lyn. Before leaving for overseas earlier this year he made his own set of bunting which takes pride of place in his cabin on the ship.
When Todd is not working overseas he loves to come home to the Lace & Trimming shopfront and get straight back to work packaging your orders adding that extra special touch, making them more like gifts.
Todd's hobbies include, cooking, making candles and soap with father Peter, attending markets with Lyn or Cassie and dance of course.
Todd's favourite product is the range of Gumball Beads, he loves mixing and matching our range of colours and creating fun and funky Gumball Necklaces.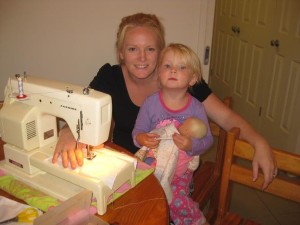 Cassie is wife to Chade and mother to Aliyah, Jax and beautiful new addition Tazmyn. (she is so cute)
Although only having a few lessons on Lyn's 37 year old sewing machine Cassie can sew 100km an hour (motherhood doesn't allow much time for sewing). Aliyah and Jax love helping Cassie choose pretty colours to go together with each design.
Cassie runs her own branch of Ninny's xx Handmade Children's Clothing and Accessories and attends markets in the Hunter Valley region.
Cassie likes to use many different products from Lace & Trimming Co. and is always coming up with new and funky designs to sell to the wider community. She comes up with really nice colour matches.
Her favourite product is our chiffon peonies and is a master at making flower crowns.
We love serving you our customers and want to thank you all
Lyn, Todd & Cassie.
L & T Co.