DIY FELT CIRCLES
19 Aug
Materials: DIY Soft Felt Circles 25mm
These felt cirlces are the perfect professional finish you can give to your hair accessories including,
satin covered headbands, snap clips, aligator clips, bobby pins and much more. Use the DIY Soft Felt Circles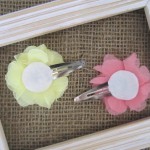 to cover the raw edges after attaching your flower or bow to your custom made hair accessory. Simply use a hot glue gun or other adhesives to attach to the back of your hair accessory. These felt cirlces are soft on the skin and allowing your hair accessory to slide easily through the hair.   
This product is sold in packs of 10
We would love to see the creations you come up with so please post a photo to our Facebook page  Happy Creating! Lyn Lace & Trimming Co